Download the UltraStar.de Wallpaper
UltraStar.de proudly presents our new UltraStar.de skins. The skins are based on a mod you can get in the forum of our partner website ultra-star.de. Our skins are very close to the original skin but with d0c's mod you will even be able to use your own background.
Although the original UltraStar is really great, a new design is pretty cool and having your own design is even more amazing!
What Do I Have to Do?
Download the UltraStar.de skin you like best. Extract the rar archive and save the folder to a place where you can easily find it again (the name of extracted folder should be "UltraStar.de-Skin1" or "UltraStar.de-Skin2".) Now you still need d0c's mod. You have to register (for free) in the forum of our partner website ultra-star.de. Then you have to go to the section "Die Mod's"->"UltraStar 0.3.1, d0c's Mod v0.3.2". There you can download d0c's mod. We recommend dowloading the zip file ("Download ZIP v0.3.2") because you just need to extract the files without having to install anything. Afterwards you can copy the content of the UltraStar.de skin folder into the folder "custom" which you will find under "ultrastar031-d0c-v0.3.1"->"skin" in d0c's mod. Now you can start UltraStar and you will not only have the fabulous UltraStar.de skin but also many improvements in the game including e.g. the possibility to group your songs according to your own categories.
Skin No. 1
Download skin no. 1 and follow the instructions above.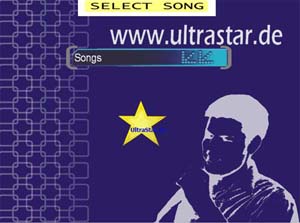 Download
Skin No. 2
Download skin no. 2 and follow the instructions above.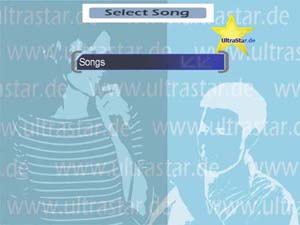 Download
In these screenshots you see the folder "Songs" to underline that by selecting it you will get to the songs. In d0c's mod the folder is originally called "default". You can have your own folder structure here, e.g. songs from "A-E", "F-K", etc. or "Rock", "Pop"... Just rename the "default" folder and/or create new folders and put the songs into it/them as it suits you best.
How Can I Use my Own Background?
In the "skin" folder, there is a folder called "gfx". You just need to replace the background picture there. Be careful - it HAS TO have the same name as the original background picture, otherwise UltraStar will not be able to identify it. We recommend to use .jpg format for your background picture. For further instructions, read d0c's comment in the forum under "Skinning tutorial" (in the skin section).
How Do I Get my Songs in?
Just copy the "songs" folder from your old UltraStar version into the folder "default" of d0c's mod. That may take some time but it is worth it.
We hope you enjoy it!
Questions and Comments
Feel free to contact us.
---